Camp Hill History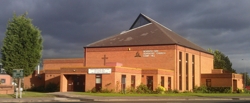 There are a few current members of Camp Hill who can still remember when it was called South Birmingham SDA Church. In those days they had no church in which to worship so they met wherever they could, over a butcher's shop on Stratford Road, in a Co-operative Hall or in a large private house in Mansell Road, Small Heath. (Mansell Road was nearly bought as a church but various matters arose which made it not totally suitable as a church building). Back in 1953, the minister Pastor Jesse
Clifford,

bought a corner of the grassland by Ravenhurst Street in order to build a church. Planning permission was refused so he sold it back to the Council. Due to an increased membership from two large Birmingham evangelistic campaigns run by Pastor Tom J Bradley and Pastor Ken Lacey, the need for a church building for the South Birmingham members increased tremendously. Eventually, a building was spotted for sale by several members.
Originally a Presbyterian Church built in 1869 it was owned by the Christian Scientists but by 1955 it was standing vacant. It was then purchased by the Seventh-day Adventists for the princely sum of £7,500. In need of much renovation, cleaning and painting, members and Ministry worked hand-in-hand until the Camp Hill Seventh-day Adventist Church opened on April 2nd, 1955.
The official dedication came on May 14th, 1955 with a congregation of nearly 300 present of which 61 were recorded as charter members. The North European Division Secretary Pastor E B Rudge spoke for the day on the wonderful privilege that is ours to be members of the church of God.
Plans had been in consideration for many years however for a road improvement scheme in the Camp Hill area. In 1979 compulsory purchase orders were served on Camp Hill and the long, hard work of planning for a new building began. Sadly on Monday evening January 5th, 1987, whilst the new building was in its early stages of construction, the 'Old' Camp Hill was gutted by fire.
On May 10th, 1987 the 'New' Camp Hill Church was opened and with a new church came new beginnings. Camp Hill church, however, is not merely about buildings; it has always been about people, about characters, leaders and a membership devoted to the mission. Since 1955, many ordained ministers and Bible workers have served the congregation. Young men and women also started their ministry at Camp Hill as assistant ministers and youth leaders. Each contributed faithfully and to the increase the membership and evangelistic work of the church. Camp Hill grew mainly through baptisms following the continuous evangelistic leadership of Pastors Lacey, Walton, Baildam, Norman, Benefield, Bryan, Anderson, Vine, Flynn, McFarlane, Masih, Francis, Wellington, Murphy and Nicholson. From its modest beginnings, the membership has grown to the present figure of over 600 giving birth to Stratford, Ward End (now Windsor St), Yardley, Chelmsley Wood, Castle Vale, Tamworth, the original Bournville, Redditch, Kingstanding, the Community of Hope and Kings Heath.