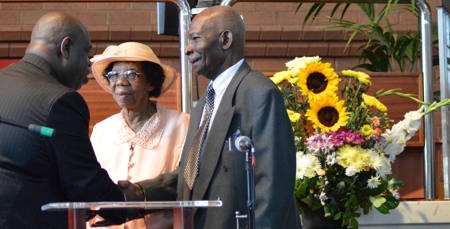 A True Diamond Milestone - 70 years of Marriage!
A Role Model to be proud of who could give you Marriage
Guidance from experience. For those contemplating marriage counselling you need look no further than two individuals; Bro & Sis Newton from Camp Hill SDA Church who had the pleasure of celebrating their 70th Wedding Anniversary on 25th July 2013.
The couple joined their union on 25th July 1943 at St Andrews Church, Belleplaine, Barbados. Together they had six children whom still attend church and love the Lord. They also have offspring of 20 grand and 22 great grand children.
On Sabbath 27th July the Camp Hill Church Family bore witness as the couple were presented with a bouquet of flowers in recognition of their 70th Wedding Anniversary. Pastor Patrick Herbert offered a prayer of dedication and a congratulatory letter was received from Queen Elizabeth 2.
Marriage was given to us by God and is for life and this couple is a role model for society. It is a rarity today that couples stay married for 70 years, but Bro and Sis Newton have shown that marriage still works. We pray that the Lord will continue to bless their marriage for many more years to come.