Running for fitness and Nutrition Presentation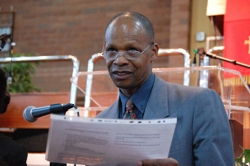 Introduction
Elder Joseph and Sister Rita Caines presented on the topics of running and good nutrition during the Advent Youth Service on Sabbath 29th March 2014.
He has been a keen runner for over 30 years and informed the congregation that athletics has taken him around the world.
God first
He acknowledged that in common with many sporting specialities Athletics events often take place on the Sabbath but Elder Joseph bore testimony that God has always provided for him enabling him to take part in competitions and events on other days and not missing out of the opportunities to engage fully as a competitor as he has put God first.
Location, location …
Elder Joseph trains at Sutton Park in North Birmingham. He summarised that running with a friend at a suitable time of the day in pollution-free, inspiring outdoor environments can improve the physical health and enable communication with God and nature. He suggested that many people of all ages were suited to running but should start slow and gradually increase distance and speed; he recommended the outdoor park type environment to invigorate the body and remind us of God's greatness through creation.
Getting started
Elder Joseph explained that on commencing running the average person would feel stiff and adopt ungainly postures. The presentation included testimonies delivered though an interview of 4 Bournville members who the had been spiritually uplifted through running and highlighted that good equipment, shoes, clothing and a water bottle were essential.
Along with engaging the various elements of NEWSTART – Exercise and running can help control high BP, reduce heart disease, reduce the risk of diabetes and improve bone strength and lung function. It also reduces stress and aids refreshing sleep.
Nutrition
Elder Joseph's wife Sister Rita Caines gave a well-researched presentation on nutrition that emphasised the importance a wide range of brightly coloured fruit and vegetables in our diet that will help beat modern diseases. She highlighted that certain medications can be as damaging to your health as some diseases and Elder Joseph exampled this by indicating he had not visited his doctor's surgery often in recent years. He added that he made a decision to change his lifestyle 30 years ago he has shared the benefits of his own health research with a number of high standard Midlands based athletes and church members.
Quiz
A quiz section in the programme enabled the 120 or so attendees to split into 4 groups and participate in looking at Bible references on the areas that an athlete engages in: preparation, training, competition and wining. All of the scripture texts were read and explained by team representatives. They were reminders of God's common sense instructions on aspects of survival in a world where sin can engulf us, which aligned with how an athlete avoids the traps of unhealthy lifestyle and imminent disease.
Vote of thanks
The Camp Hill membership warmly thanked the team for their programme and other health ministries teams around the Midlands are encouraged to invite the team for a healthy lifestyle reminder with a difference that teaches us all how to take the fight against poor lifestyle choices one step further literally and metaphorically. Lovely musical items by Brother Godfrey Hull on saxophone and Sister Kay Francis were much appreciated as part of the worship in this programme.